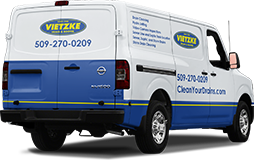 Schedule Today and We'll Be On Our Way
Whether you need an urgent drain cleaning or you prefer to be preventative with drain cleanings to avoid unpleasant surprises, Vietzke Drain & Rooter is here to help. Regardless of your exact needs, we'll leave you with clean, fully flowing drains. Contact our team today to schedule an appointment.
We Are Your Leading Drain Cleaning Team
Vietzke Drain & Rooter is a client-centered drain cleaning company in Spokane, WA, and nearby areas that provides top-notch service when drains are making odd noises when used, clogging, going down too slow, or doing other things besides functioning as intended. We're a trusted, locally-based business with a solid reputation for building and maintaining solid client relationships.
Why Choose
Vietzke Drain & Rooter
Drains need proper cleaning on a regular basis. This kind of work should be done as soon as possible. Fortunately, you can count on our experienced industry experts to arrive with fully stocked trucks along with the right tools and skills. Here are more reasons to work with us:
Prices that are reasonable and upfront
A team that is well-trained and courteous
Always ready when drains need cleaning
When drains are in need of professional attention, reach out to Vietzke Drain & Rooter. We're also the experts to call on if your property management company is dealing with problematic drains. Our service areas include: