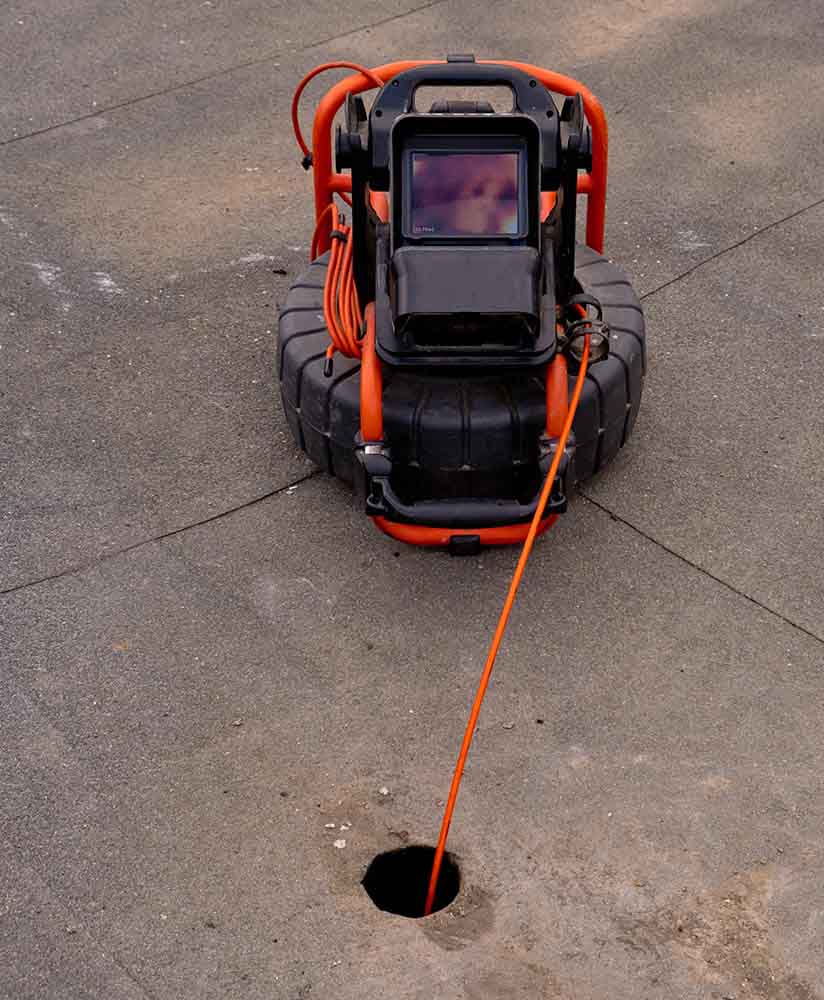 Top-Quality Video Camera Inspection in Coeur d'Alene, ID
Video cameras are gradually becoming one of the most valuable tools in the plumbing industry. These cameras are waterproof, enabling them to go through sewer lines and underground pipes. To properly locate and diagnose plumbing issues, our team inserts a flexible rod fixed with a high-resolution camera at the end to check troublesome sewer lines. One most distinct advantage of using this technique is that the camera can pass through the curves and bends of the pipes for thorough inspections.
For your video camera inspection in Coeur d'Alene, ID, rely on Vietzke Drain & Rooter. You can rest easy knowing that your sewer lines are in safe hands.
Signs You Need to Schedule a Video Camera Inspection
Sewer and drain-related issues are things you cannot and should not ignore. They can oftentimes make you spend a lot of money repairing or replacing the affected fixtures.
Call an expert plumber once you notice any following signs:
Slow and backing up drains

Slow drains are inconvenient. Some homeowners use commercial drain cleaners or declogging agents once they encounter this problem. Unfortunately, this is a temporary solution and calling in the pros is the best permanent solution.

Frequent clogs

Frequent clogging is caused by blockages somewhere along the sewer line. It can be indicative of underlying issues as well. Call in the pros for a sewer video inspection.

Foul odors from your drains

It feels good to have a clean and fresh-smelling home. However, things can change abruptly if your plumbing system is not in good condition. Sewage smell is something you cannot hide as even air fresheners cannot get rid of it. To avoid frustrations and embarrassment, have the pros conduct a drain inspection to get the root cause.
Common Problems Found During Sewer Camera Inspections
Some minor sewer issues can go unnoticed until they develop into bigger issues. Make it a point to book our sewer camera inspection services before things get out of hand to avoid this.
Below are common problems our cameras will find:
Pipe clogs
Cracked or broken pipes
Collapsed sewer pipes
Rust in pipes
Sagging or bellied pipes
Tree roots intrusion
Benefits of Video Camera Inspection Services
Plumbing or sewer issues can pose a significant risk to your house, causing extensive structural damage. It can also reduce the value of your home if you intend to sell it. Fortunately, you can employ innovative methods such as a sewer camera inspection to inspect your sewer and plumbing lines:
Below are the benefits:
You find your lost valuables like jewels and rings
You identify every block in your pipes
You get to know the cause of the clog
The camera locates all breaks in your lines
Very few permits are needed to conduct an inspection
It minimizes the cost since you detect the problem on time
How Video Camera Inspection Works
The plumbing inspection begins with the insertion of a flexible cable with a camera on it at one end into your drain line. The camera will take real-time images, which are instantly displayed on a monitor, as the technicians keenly observe them to identify the problems. You can also record the inspection on a DVD for future review.
Consult Vietzke Drain & Rooter Today
Whether you need simple inspections, maintenance, or repairs, you can count on us to deliver results fast. Through our pipe camera inspection services, we can accurately pinpoint and diagnose plumbing issues with ease.
When you work with us, you gain the following benefits:
We are open 24/7
Our prices are fair
We have highly-trained technicians
We have all the necessary tools for any plumbing task
We arrive on time
We drug test and check the background of all our employees
If you need a premier plumber in Coeur d'Alene ID, turn to Vietzke Drain & Rooter. We have what it takes to keep your plumbing system in tip-top shape all year long. Contact us today!